Clear, Glowing Skin in Just 5 Minutes

Ellixi Skin Facial Steamer is designed to easily detoxify and cleanse your face.
Opens up your pores allowing the release of dead skin cells, bacteria, dirt, and other impurities.

Help soften blackheads making it easier for removal.

Allow skincare products penetrate deeper into the skin.

Increases circulation resulting in a natural, healthy glow.

Promotes collagen and elastin production.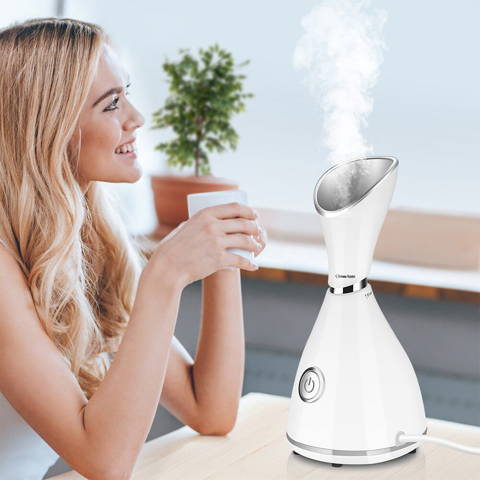 "A fantastic little steamer, helped clear out my acne and had a glow after every use! "
Laurel Johnson- NYC
Enjoy a more youthful and a brighter skin when you

Order this Highly Effective System Today!
Our Facial Steamer is perfect to use before a session with our Microdermabrasion Kit or Rejuvenation Wand.
STEP 1:
Ensure device is charged (4 hours for the first use).
STEP 2:
Add water into the tank and tighten it.
STEP 3:
Press the spray switch once to turn on, and once again to turn off. (Steam can take 30 seconds to start coming out, as it needs time to heat up.)
STEP 4:
Clean around your face in circular motions for 5-10 minutes. (2 -3 times per week)
Once your order is verified and your payment is approved, processing begins.
This takes approximately 2 - 3 business days -- not including weekends or holidays.
United States:
United Kingdom:
Australia:
Canada:
Europe:
7 - 12 Days

7 - 15 Days

10 - 16 Days

15 - 25 Days

7 - 15 Days